SCALEA®: COMPLEXE CENTRE SOROLLA, VALENCE
Le centre complexe Sorolla comprend un hôtel 5 étoiles, des bureaux, ainsi qu'un large choix de magasins et restaurants pour vos moments de loisir.
Scalea® by Cosentino – un matériau material suitable for any space – was used for the Sorolla Centre to reflect its wide range of activities and its elegance.
TECHNICAL SPECIFICATIONS
PROJECT:
Flooring and wall siding the shopping centre, and exterior, ventilated façade for the buildings that make up the Sorolla Centre Complex in Valencia.
LOCATION:
Sorolla Centre Complex, Valencia
THE TEAM:
Nebot Arquitectos and José Segarra Raimundo (architects)
Suministros y Colocación del Mármol S.L. (installation company)
Grupo Ballester (developer)
MATERIALS:
Blanco Macael Marble
THICKNESSES:
2 y 3 cm
DIMENSIONS:
Depending on the application, 50 x 50 x 2 cm slabs, 150 x 50 x 2 cm slabs, 80 x 80 x 2 cm slabs, and slabs cut to measure.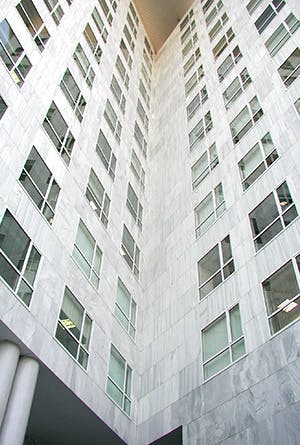 BLANCO MACAEL: PERFECT FOR INTERIOR DESIGN AND FLOOR AND WALL SURFACES ANYWHERE
Blanco Macael marble was used for this building. It is characterised by being predominantly white, with a compact, medium grain, and occasional grey veining.
José Segarra Raimundo, the project's architect, relied on this marble as it fit perfectly with the image of assurance, safety, quality and innovation that he wanted to project with this building.
The marble used had mostly glasé and century finishes for three main reasons: to provide a matte shine; so that the effect of the passing of time would give a touch of elegance; and that it would be virtually non-slip.
Within the complex is a shopping centre on two floors (located on the ground and first floors) and a large hall that acts as a sort of transit area. It is also a thoroughfare, a market, and meeting place where several thousand people pass through each day.
The Sorolla Centre Complex was awarded the "Premio a la Obra Nacional" by the panel of judges of the 22nd edition of the Macael Awards.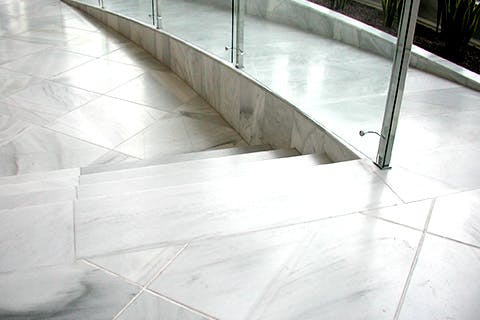 The space has 3,000 m2 of 2 cm thick Blanco Macael siding, with a polished finish. The 3 cm thick exterior siding is in the same colour and has a honed finish. The public areas of the hotel involved laying 3,000 m2 of distressed flooring in Blanco Macael